There has been an increased use of digital LED displays and mobile LED warning displays used by several public and private institutions. These innovative devices are redefining how messages are shown to the public in any unwanted event or circumstances.
However, there is a lack of efficient products in the market, which has forced public organizations and private businesses to use substandard products that aren't reliable. This is where we have stepped in to introduce a modern outdoor LED display system, VALIS1. Let's have a brief look at our robust system.
Product Overview
Our Vehicle Advisory & Location Information System 1 (VALIS1) is a robust and modern wireless and weatherproof outdoor mobile display warning system that has the compatibility to be installed in any vehicle with two capabilities. You don't need any drilling, wires, or modifications as the display fits perfectly into the system. You can also use it as a standalone display.
You can use our products to raise safety awareness and protect your local community. Private businesses also use our products to help them innovatively advertise their products. The display panel is customizable and equipped with modern technology that'll help you display real-time messages. All you need is a smartphone and our app or a plug-in Wi-Fi option to change messages.
Daily Uses
Our VALIS1 system is quite flexible and is used by various individuals and organizations. Construction businesses actively use our product to display warning signs to incoming foot traffic or direct their construction workers. Road authorities have also used our product to direct incoming traffic, and VALIS1 has helped ease traffic congestion. Private security firms have used our products during events and festivals to help crowd control.
Apart from that, retail businesses use our product formarketing their products. VALIS1 helps them convey their product marketing message in an effective and impactful way. Our products have also been used in train stations, food trucks, outdoor restaurants, theme parks, water ports and maritime industry, conventions, and much more.
Stand Out Features and Pricing
VALIS1 is conveniently priced at $3,699, which is an absolute bargain considering the product's unique features. Here are some standout features of VALIS1:
Wireless high resolution with built-in Wi-Fi and direct flash drive port.
Constructed from resolute products such as lightweight steel to withstand the harshest of temperatures.
Customizable display and can be controlled from smart device app.
No commercial licensure is required.
Constant run time of 15-17 hours with a self-contained power supply.
Optional 6 LED built-in flash warning systems for an additional $299.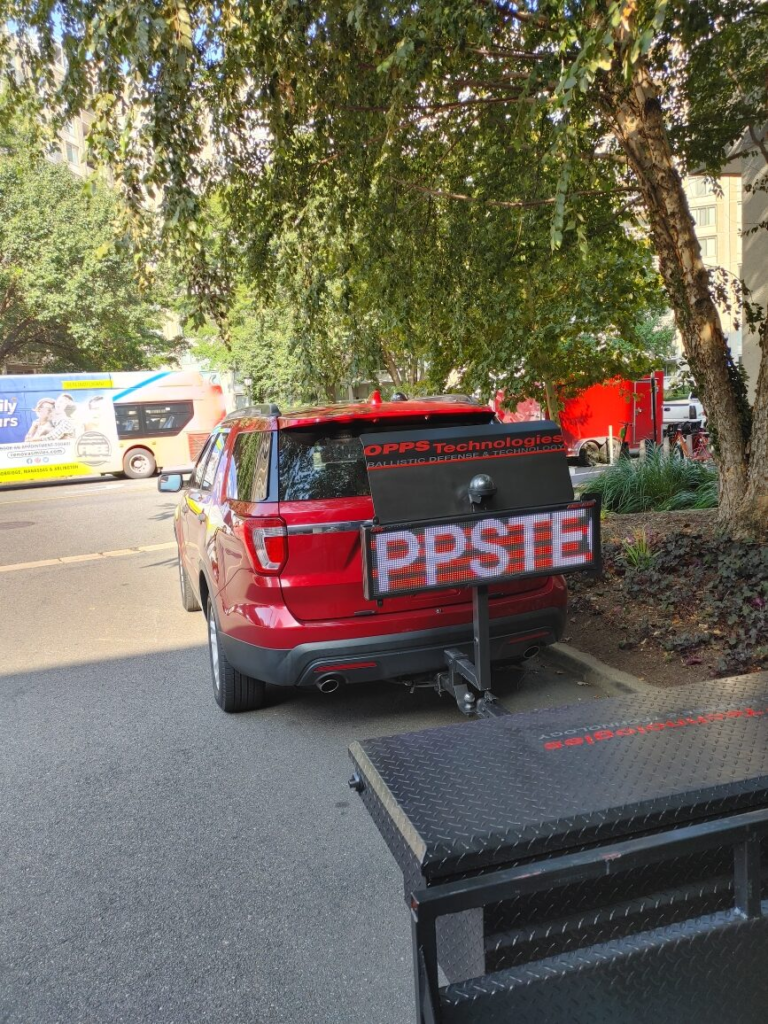 Whether you need a moving billboard or a device to protect your security team, we've got you covered. You won't find such a high-quality LED screen that is durable, reliable, and can go non-stop for 15-17 hours. At OPPS Technologies, we've got your back. Our experts have developed the Vehicle Advisory &Location Information System (VALIS), one of the best in the business. Contact us now for more information.