Vehicle Advisory & Location Information System – Security and Tactical (VALIS 2) is the second of two VALIS LED panels that we offer at OPPS Technologies. It's an LED display that can be attached to any vehicle that has a towing feature. So, most standard vehicles such as vessels, trucks, buses, golf carts, RVs, and even a train can have this useful addition to them.
It's one of the best ballistic response products you can find in the market as it's been tried and tested by many of our professionals and experts. The LED panel is a 40×11 wide display that's attached to the back of your vehicle using the tow hook as mentioned earlier. It has many features that can be useful for many industries such as the ones mentioned below.
Features
VALIS 2 is designed to act as a protective layer for all emergency response teams. It's made from deflective steel that's also ballistic-resistant. Plus, it's also been tested by our professionals and can deflect 45cal 185grain Federal Hydra Shok.
Besides its useful protective features, it's also wireless and waterproof which can be used to promote or advertise products and services. All you have to do is control the screen's message using a mobile app or a flash drive and change it accordingly.
Uses of VALIS 2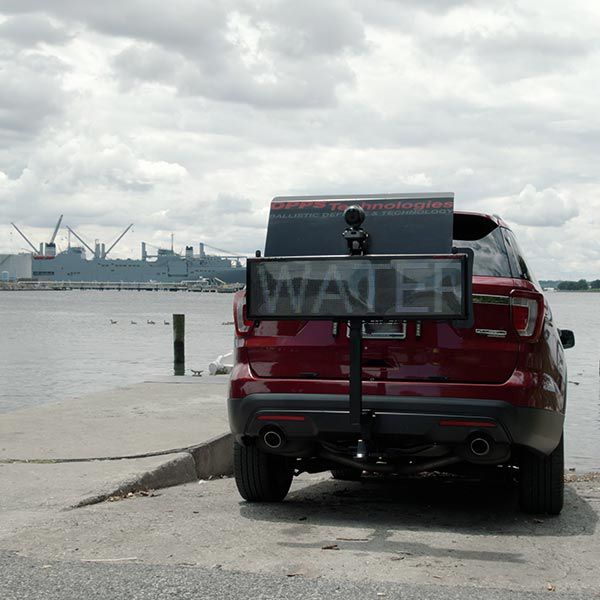 As mentioned earlier, VALIS 2 LED panels have been very effective when it comes to their usage and utility. You can use these panels to display a notification regarding any emergency or critical incidents, for example, putting them near a concentration site can alarm people passing by to be cautious.
These have been exceptionally useful for stadium owners and event planners for concerts and shows. By strategically placing them in key positions, you can control the crowd's movement and due to their great durability, they can also act as a deflection shield for projectiles.
Traffic control and towing companies can also use it to mediate traffic or broadcast signs indicating road closure in case of construction or accident. Due to its high-quality display and color customization options, it's visible from long distances making it the perfect warning sign for people to see.
Get Your VALIS 2 From OPPS Technologies
Our VALIS 2 display is designed by professionals with many years of experience in the security services and law enforcement sector. It was also tested out for its effectiveness and used by our professionals during protection services. You can also get it from us for your safety too. We are a security acquisition firm based in Maryland that aims to provide safety to people.
You can also hire a security guard or an off-duty police officer for your protection services. We also offer a variety of other products so check them out or contact us to find out how we can help protect you.